Bijoy Krishna Das obtained his master degree in solid state physics from Vidyasagar University, Midnapore, India (in 1996) and PhD degree (Dr.rer.nat) in integrated optics from University of Paderborn, Germany (in April 2003).
Dr. Das started his research career in the area of photonics at the Microelectronics Centre, IIT Kharagpur nearly about two decades ago (in January 1996) when he was associated in a DRDO sponsored project. He was an FRC Postdoctoral Fellow in the Graduate School of Engineering, Osaka University, Osaka, Japan (2004-2005). He later joined as a postdoctoral researcher in the Center for Optical Technologies, Lehigh University, Bethlehem, PA, USA.. In April 2005, he rejoined the Integrated Optics Group in University of Paderborn as Wissenschaftlicher Mitarbeiter and continued his research on integrated nonlinear optical devices. He also worked for a while at Laboratoire Aime Cotton, CNRS, Orsay, France.
Since August 2006, Dr. Das has been associated with the Department of Electrical Engineering, IIT Madras, Chennai, India, where he is currently holding a full Professor position. He is also one of the core founding faculty members of the Centre for NEMS and Nanophotonics (CNNP) sponsored by the DeitY, Govt. of India. A number of projects sponsored by DRDO Labs (RCI Hyderabad, IRDE Dehradun), DST and DIT/MeitY have been executed by Dr. Das as a principal investigator. He has published more than 75 research articles in peer reviewed journals and conference proceedings. His present research focus is silicon photonics devices and circuits: optical interconnect and quantum optic application; integrated RF photonics signal processing; lab-on-chip biomedical applications.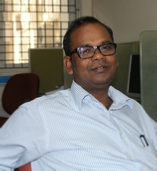 Professor
Dept. of Electrical Engineering
IIT Madras

Professor
Dept. of Electrical Engineering
IIT Madras

Associate Professor
Dept. of Electrical Engineering
IIT Madras

Associate Professor
Dept. of Electrical Engineering
IIT Madras












Professor
Dept. of Electrical Engineering
IIT Madras
Professor
Dept. of Electrical Engineering
IIT Madras


Visiting Professor (VAJRA)
Dept. of Electrical and Computer Engineering
University of California, San Diego

INTEGRATED OPTOELECTRONICS RESEARCH GROUP

Department of Electrical Engineering, IIT Madras, Chennai-600036, India