Deleep R. Nair
Professor
Department of Electrical Engineering
IIT Madras
Contact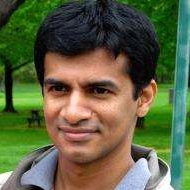 Affiliation: Centre for NEMS and Nanophotonics (CNNP)
Phone: 044 -2257 4471
E-mail: deleep[at]ee.iitm.ac.in
Office: CSD 318
Education & Experience
All Firework-makers have three gifts. They are all equally important, and two of them are no good without the third. They are talent, grit and luck.
Education
Ph.D (EE) - IIT Bombay (2005)
Thesis - Scalability & Reliability Studies of NOR Flash EEPROMs (Advisor - Prof. Souvik Mahapatra)


M.Tech (EE) - IIT Bombay (2001)
Thesis - Numerical Modeling of Tunneling Current through Ultrathin Gate Oxides (Advisors - Profs. J. Vasi & M.B. Patil)


B.Tech (ECE) - NIT Calicut (1999)
Thesis - Speech and Audio coding using Wavelet Transforms (Advisor - Prof. P.S. Sathidevi)


Experience
Professor (Nov 2022 - present)
Associate Professor (July 2017 - Oct 2022)
Assistant Professor (Dec 2011 - June 2017)
Senior Engineer - IBM Semiconductor Research and Development Center, Hopewell Junction, NY (April 2005 - October 2011)
-Device engineer for 65nm, 32nm, 28nm and (early) 14nm CMOS process nodes
-Lead device engineer of the multi-company (IBM/Samsung/Infineon/Toshiba/Renesas/GlobalFoundries/ST Microelectronics) 32nm & 28nm bulk CMOS technology development program
Teaching & Research
The subject I am going to recommend to your attention almost terrifies me. The variety it presents is immense and the enumeration of facts serves to confound rather than to inform. The subject is electricity.
Courses Taught
Basic Electrical Engineering (EE1100)
Electric Circuits and Networks (EE2015)
Solid State Devices (EE3001)
Professional Ethics (HS3050)
VLSI Technology (EE5312)
Introduction to Research (EE6021)
Advanced CMOS Devices and Technology (EE6346)*
Seminar on the History of Electrical Engineering (EE5004)*
* Courses introduced
Research Interest
Semiconductor Devices - Device Design, Fabrication, Characterization and Numerical modeling
RF MEMS switches and resonators - Design, Fabrication, Characterization and Numerical modeling
Amateur Interest
History of Science and Technology
Philosophy of Science
Economic History


Students
One shouldn't work on semiconductors, that is a filthy mess; who knows whether they really exist.
Current Research Scholars
Ch Pavan
Animesh Vaish
Bijay J
Kanaka Joy
Anurag Swarnkar
Bhadri Narayanan (with Prof. Amitava DasGupta)
Nivedita Rai
Amrendra Singh (with Prof. Nandita DasGupta)
Gangam Pavan Kumar (with Prof. Nandita DasGupta)
Abhishek Krishnan (with Prof. Subash S.)
Alumni (Thesis and current affiliation)
Ph D
Vishal Tiwari (2017) - Analysis and modeling of Gate Induced Drain Leakage (GIDL) mechanisms in SiGe pMOSFETs - Intel, Hillsboro, Oregon, USA
George Thachil (2022) (with Prof. Amitava DasGupta) - Design, fabrication and characterization of an energy efficient bistable DC MEMS switch - Infineon, Bangalore
Dibakar Yadav (2022) - A quantum transport simulation based study of source to drain tunneling in pMOSFETs - Micron, Hyderabad
Nidhin K (2022) (with Prof. Anjan Chakravorty) - Thermal Modeling of Transistor: A study of the static behavior of SiGe HBTs, SOI FinFETs and GaN HEMTs - Intel, Bangalore
MS
Sarath G (2016) - Tunable RF MEMS capacitive switches with stress resilience and enhanced capacitance ratio - Purdue University for PhD
Vivek Oza (2022) - Characterization and Analysis of 1/f noise in SiGe channel PMOS devices - Micron, Singapore
Publications & Projects
Not everything that can be counted counts, and not everything that counts can be counted
Projects
Ongoing
Indian Nanoelectronics Users Programme - Idea to Innovation (as co-PI)
TCAD simulation, analysis and compact modeling of static thermal effects in GaN HEMTs (as co-PI)
Design and Development of SPDT RF MEMS switches for Ku band applications (as PI)
RF Oscillators based on MEMS resonators (as PI)
Self-aligned double polysilicon emitter Bipolar Technology for RF applications (as co-PI)
Completed
Reliability of SiGe channel PFETs (as PI)
Characterization and simulation of Gate Induced Drain Leakage (GIDL) in high k metal gate PMOSFETs (as PI)
Development of numerical simulation tool for 3-D silicon nanowire MOSFETs (as co-PI)
Design, fabrication and characterization of nanoelectromechanical resonator (as co-PI)