Silicon Photonics @ IIT Madras
Since its inception in January 2007, the Integrated Optoelectronics Group has been actively engaged in novel design, fabrication and characterizations of integrated silicon photonic devices and circuits for communications, high performance computations and sensing applications.
The group is now equipped with micro/nano fabrication facilities (Centre for NEMS and Nanophotonics) and device characterization facilities (Integrated Optoelectronics Lab).


We are looking for bright and motivated PhD candidates for pursuing research in following topics:
(1) Silicon Photonics Devices for Quantum Computation and Communications;
(2) Silicon Photonics Devices for RF Signal Processing;
(3) Silicon Photonics Lab-On-Chip for Bio-Sensing;
Interested candidates with M.Tech/MS Degree in ECE/EE/Applied Physics backgrounds may directly contact Prof. Bijoy Krishna Das (E-Mail: bkdas@ee.iitm.ac.in)


INTERNATIONAL PRESENTATIONS


Proc. SPIE 10249, Integrated Photonics: Materials, Devices, and Applications IV, 102490Q (May 30, 2017)

IEEE/OSA Journal of Lightwave Technology, Vol. 35, No. 22, pp. 4916-4923, November 15, 2017.


Applied Optics, Vol. 56, No. 6, pp. 1708-1716, 2017.

CSI Transactions on ICT, Vol. 5, No. 2, pp. 189-193, June 2017.




Applied Optics, Vol. 57, No. 9, pp. 2277-2281, 2018.


IEEE Journal of Selected Topics in Quantum Electronics, Vol. 25, Issue 3, MAY/JUNE 2019.

Integrated optical Edge Filter using Apodized Sub - Wavelength Grating Waveguide in SOI
Sumi R, N. Dasgupta and Bijoy Krishna Das
ECIO - 2018, Valencia, Spain, 30th May-1st June, 2018 (Poster)

Broadband Wavelength Filter Device using a Sidewall Grating in Multimode SOI rib waveguide
Parimal Sah and Bijoy Krishna Das
OFC 2017, Los Angeles, CA, USA ,19-23 March 2017 (Oral )
Integrated Optical Mach-Zender Interferometer with a sensing arm of
Sub-Wavelength Grating Waveguide in SOI
Sumi R, N. Dasgupta and Bijoy Krishna Das,
IEEE Sensors, Glasgow, Scotland, UK, 29th Oct-1st Nov, 2017 (Poster)
Diffusion Doped p-i-n/p-n Diodes for Scalable Silicon Photonics Devices
Ridhhi Nandi, Sreevasta Kurudi and Bijoy Krishna Das
SPIE Microtechnologies, Barcelona, Spain, 8-10 May 2017 (Poster)
Novel Wavelength Filter Devices in SOI for Optical Interconnect Applications
B. K. Das, R. K. Gupta, P. Sah, and S. Chandran
ICMAT-2017, Suntec Singapore , 18-23 June,2017 (Invited)

Integrated Optical Ultra-Broadband Add-Drop Filter in Silicon-On-Insulator Platform
Sumi R, R. K. Gupta, N. Dasgupta and Bijoy Krishna Das
OFC 2018, San Diego, USA, 11th -15th March 2018 (Oral)
Wideband MZI based Thermo-Optic Switch with Slab Integrated Microheater in SOI
Ramesh K. Gupta and Bijoy Krishna Das
CLEO - 2018, Hong Kong, 29th July- 3rd August, 2018 (Poster)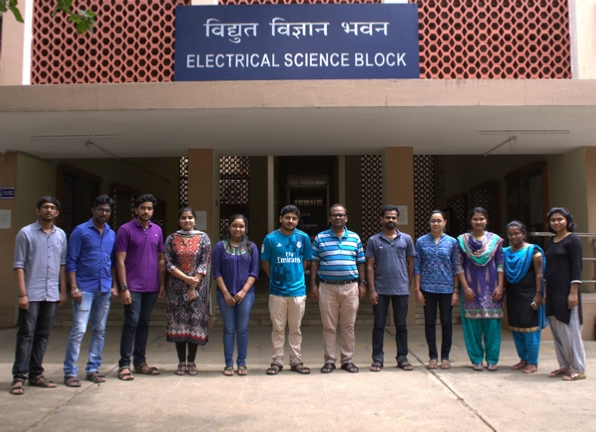 INTEGRATED OPTOELECTRONICS RESEARCH GROUP

Department of Electrical Engineering, IIT Madras, Chennai-600036, India